Regular price
Sale price
$25.00 USD
Unit price
per
Sale
Sold out
—20% OFF 5+ DICE SETS—
You are the bard. These are your dice. As a jack-of-all-trades you're ready for anything and never at a loss for words. With an incantation or enchanting lyric, you can deliver inspiration and vicious mockery in equal measure.
Within this tin awaits 15 dice in two color designs. Roll them with your inimitable style to begin crafting the details of your NEXT EPIC SAGA!
Set includes:
Purple: D4, D6, D8, D10, D100, D12, D20
Yellow: 3D4, 2D6, 2D8, D20
Open Game License v 1.0a Copyright 2000, Wizards of the Coast, Inc. System Reference Document 5.0 Copyright 2016, Wizards of the Coast, Inc.; Authors Mike Mearls, Jeremy Crawford, Chris Perkins, Rodney Thompson, Peter Lee, James Wyatt, obert J. Schwalb, Bruce R. Cordell, Chris Sims, and Steve Townshend, based on original material by E. Gary Gygax and Dave Arneson.
Shipping & Returns

We ship domestically and internationally. Shipping charges will be added during checkout.

For refunds or returns, please contact our Support Goblins for assistance in returning, replacing or repairing your items.
Share
View full details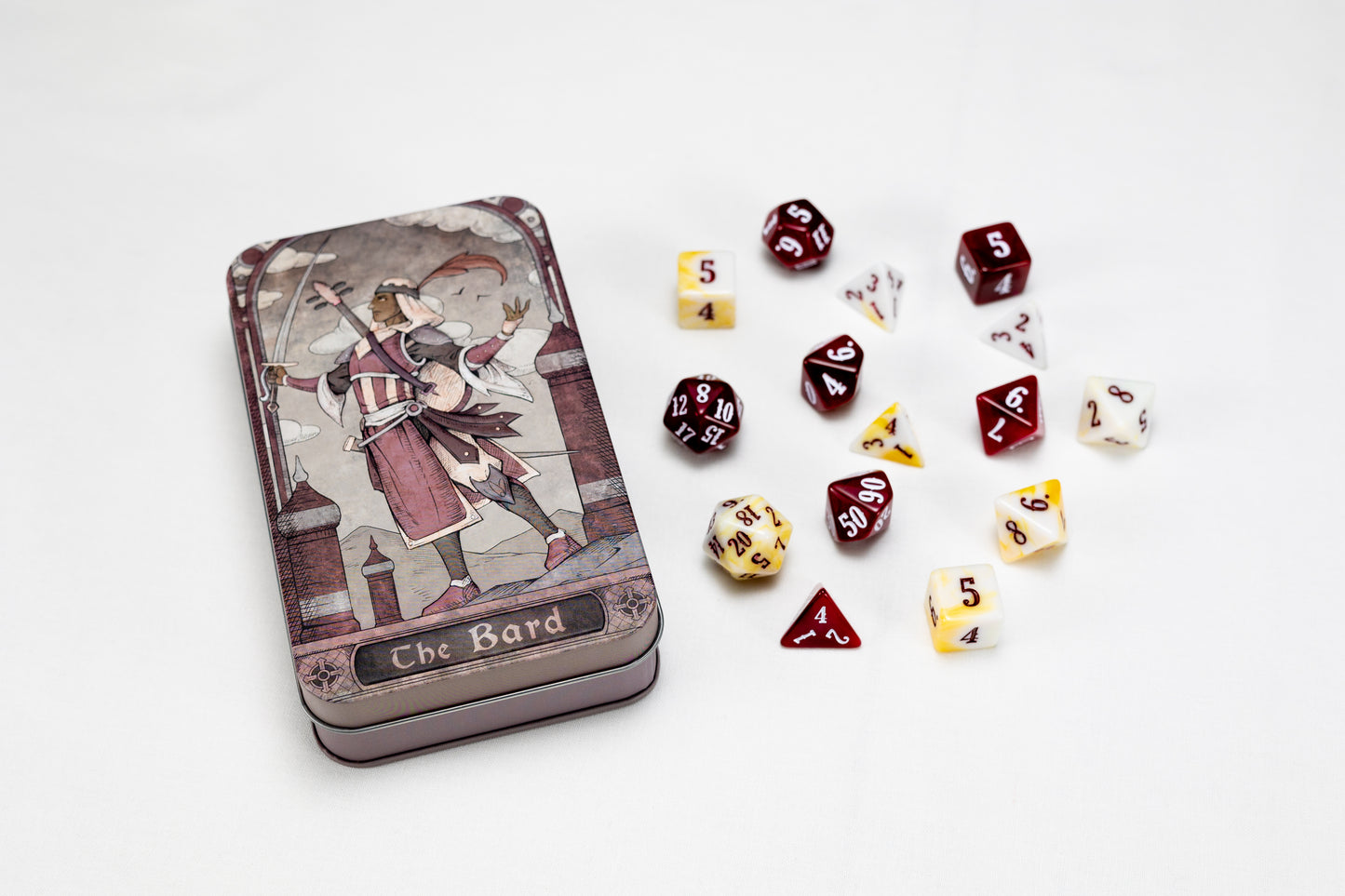 Really nice dice
There is only so much to say about a set of dice. This one is beautiful and the box it comes it is even prettier.
Am dice goblin. Me like math rocks.
Good stuff
The dice are for my son just starting out an adventure. Would have liked more yellow in the dice but turned out great. He called them his yellow snow rollers and that's the running joke in the adventure now.