Regular price
Sale price
$25.00 USD
Unit price
per
Sale
Sold out
—20% OFF 5+ DICE SETS—
You are the fighter. These are your dice. You bring the pain. You're loud and hard to kill and never run from a foe unless everyone else runs first. You are the pointy end of the sword and have the beautiful scars to show for it.
Open this tin and unleash 15 dice in two color designs, including extra d8s and d10s for battle superiority. Not to mention the two extra d20s to attack at advantage and VANQUISH YOUR FOES WITH VIGOR!
Set includes:
Silver: D4, D6, D8, D10, D100, D12, D20
White: D6, 3D8, 2D10, 2D20
Open Game License v 1.0a Copyright 2000, Wizards of the Coast, Inc. System Reference Document 5.0 Copyright 2016, Wizards of the Coast, Inc.; Authors Mike Mearls, Jeremy Crawford, Chris Perkins, Rodney Thompson, Peter Lee, James Wyatt, obert J. Schwalb, Bruce R. Cordell, Chris Sims, and Steve Townshend, based on original material by E. Gary Gygax and Dave Arneson.
Shipping & Returns

We ship domestically and internationally. Shipping charges will be added during checkout.

For refunds or returns, please contact our Support Goblins for assistance in returning, replacing or repairing your items.
Share
View full details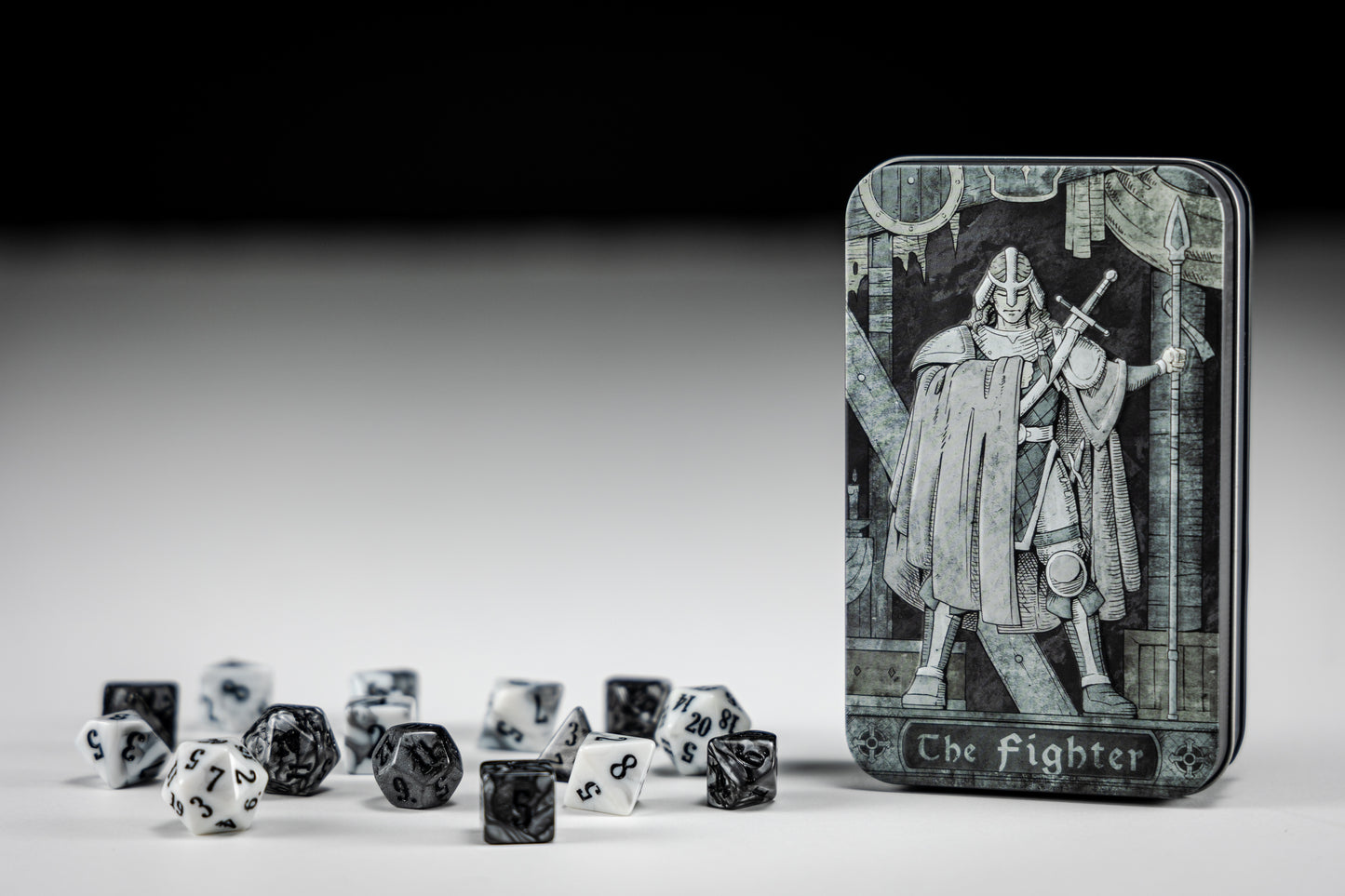 Hasn't arrived yet. Showing in transit for the last two weeks. Contacted the seller with no response.
Update. Contacted beadle and grimm through Facebook and Instagram as suggested by the app. Facebook never responded, and Instagram responded a day too late telling me about the email.
Despite tracking issues on the shop app, the product has been delivered and is great.
Heavy Hitting Fighter B&G Dice Set!
I unfortunately had to go with 4 stars on this, as heartbreaking as it was. The primary set is grey metal/dark marbled with black ink, but a few of the ones in my set have very dark marbling and the number gets lost in it. Even in good lighting a few of the facets are hard to read. The additional dice have excellent contrast as they are white with some grey marbling and black ink. The tin follows suit, sporting dark to light grey shading showing a fighter with several weapons at the ready awaiting the next martial encounter!
Disappointed. Not sure where the fault lies.
So I was really excited about getting these dice. See the picture below. This is what I saw from the ebay seller. I found these on ebay as opposed to this site. The seller is a retailer and I paid full price. This was not a discount purchase. But if you look at the dice in the picture (white background), they are very different than the dice in B&G's pictures. That is what I was expecting, nice, clear, sharp dice. The black dice have black numbering, so impossible to read. All of the edges are rounded. I came to the web site to notify B&G and then saw their images which were different from the ebay listing. Their dice are rounded and the dark dice have black numbering. So I'm very confused why there are two different product images. I'm sure the retailer used stock photos. Anyways, this is a big disappointment. I love the idea. I just am not a fan of the execution.