Regular price
Sale price
$30.00 USD
Unit price
per
Sale
Sold out
Designed to rest on the top of your DM screen, these 30 encounter cards feature all-new gorgeous artwork on the front and DM info on the back. DM info includes the full D&D stat block and exclusive Beadle & Grimm's Tactical Tips.
Tactical Tips are combat hints for the DM provided in collaboration with award-winning monster combat blogger Keith Ammann.
"Never go into battle without a plan! With the Tactical Tips on these Encounter Cards, you'll never have to wonder what your monsters and NPCs are trying to do or how they should go about it. They know what they're doing—and so will you!"
- Keith Amman
Cards included in PACK 2:
Acolyte
Air Elemental
Blink Dog
Bugbear
Bulette
Cyclops
Displacer Beast
Drider
Dryad
Fire Elemental
Githyanki Warrior
Helmed Horror
Merfolk
Ogre
Ogre Zombie
Orc War Chief
Pegasus
Phase Spider
Plesiosaurus
Revenant
Roper
Rug of Smothering
Sahuagin
Sea Hag
Warhorse Skeleton
Werewolf
Wight
Worg
Wyvern
Zombie

Combat Preferences. Many creatures prefer either 

melee or ranged combat, moving often or standing in place, and either absorbing or avoiding damage.

Flight Threshold. Whether a creature fights to the 

death or runs-and when.

Preferred Attack. Everyone has a go-to move.

The Basics. Their thing, in a nutshell.

Encounter Tips!
COMING SOON!
Challenge Rating 7+: Pack 1
Challenge Rating 7+: Pack 2
Shipping & Returns

We ship domestically and internationally. Shipping charges will be added during checkout.

For refunds or returns, please contact our Support Goblins for assistance in returning, replacing or repairing your items.
Share
View full details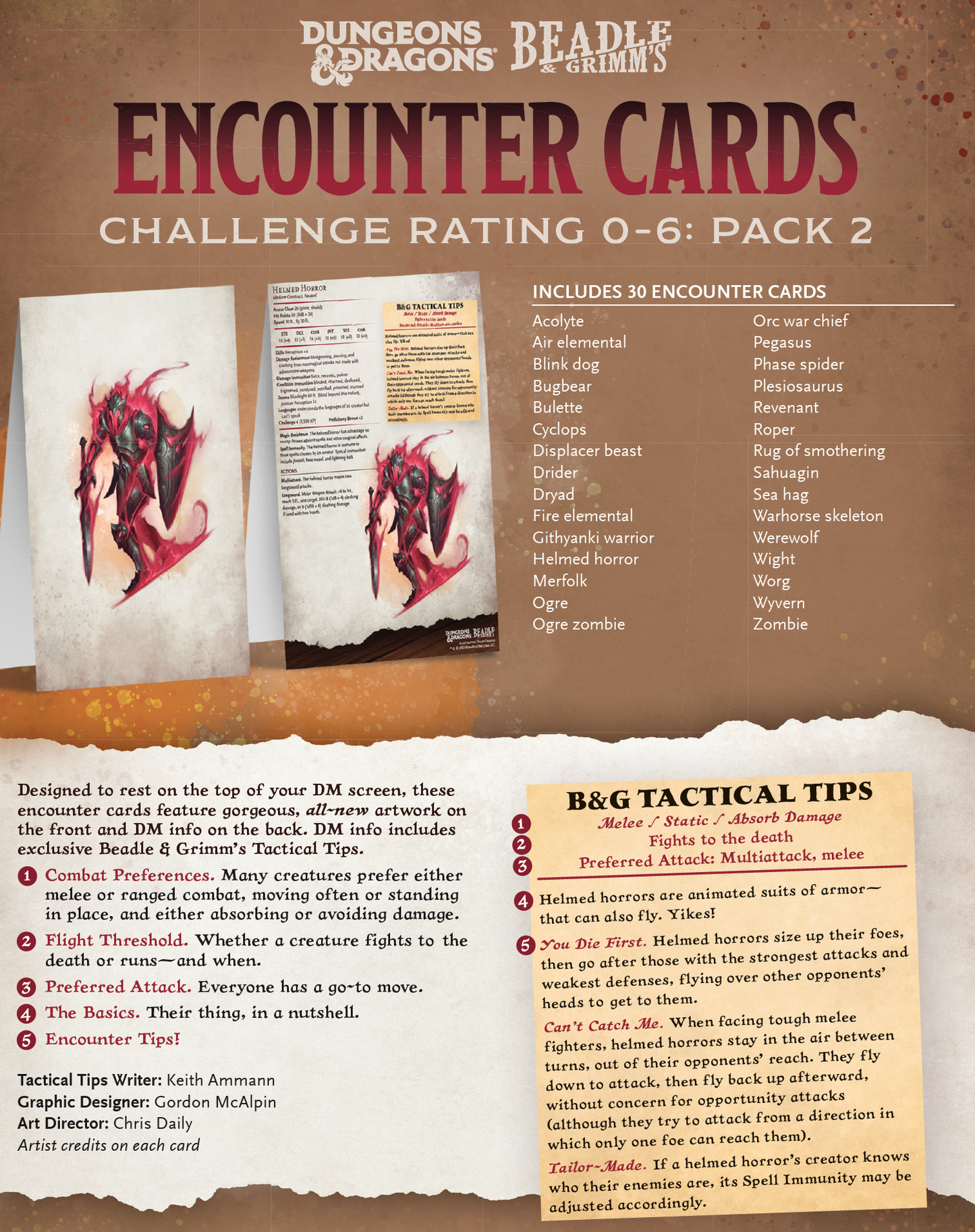 These are genuinely beautiful cards. The artwork is elegant, the stats succinct, and I love how they can hang over a DM screen to let them see the main event, while the DM sees the other side with the stats!
Love these cards! Storage option?
These cards are great! Really love the new, original art!!
I believe another reviewer mentioned a desire for a storage box -- I second this idea; I've accumulated a fair number of encounter cards over the last few years and would LOVE to have an easy way to store and organize them all for quick access and reference! (Perhaps the boxes could be made available for individual purchase?)
Thanks for your feedback!
And stay tuned for more details on a Storage Box!
Monsterous Compendium!
I was a fan of the 2nd ed D&D Monstrous Compendium and the ability to pick and choose your encounter tables from a binder. This takes that idea to a much higher usable level. Love them!